Rustic outdoors
mix and match, make it your own
The rustic mix & match outdoors collection consists of a carefully composed, sustainable and collection of which every piece of furniture can be combined with each other. This way you create a beautiful lounge area, but also a lovely table area, which flows nicely into each other as an attractive whole.
Exclusively with us, you even have a very wide choice of outdoor cushions, so you can put together a beautiful set in your desired fabric type and color for the garden furniture you have selected. No more dragging pillows? Or be surprised by a rain shower? Then choose the all-weather cushions. Do you have a shelter? Then this is not necessary and we are happy to save you money, then we will take another variant of cushions.
Make it complete and complete by combining it with our outdoor carpets. Does your terrace fall just outside the standard sizes? No problem, because customization is possible.
Are you stuck? We are happy to advise and think along with you, make an appointment so that you can experience some of the outdoor furniture and fabrics yourself.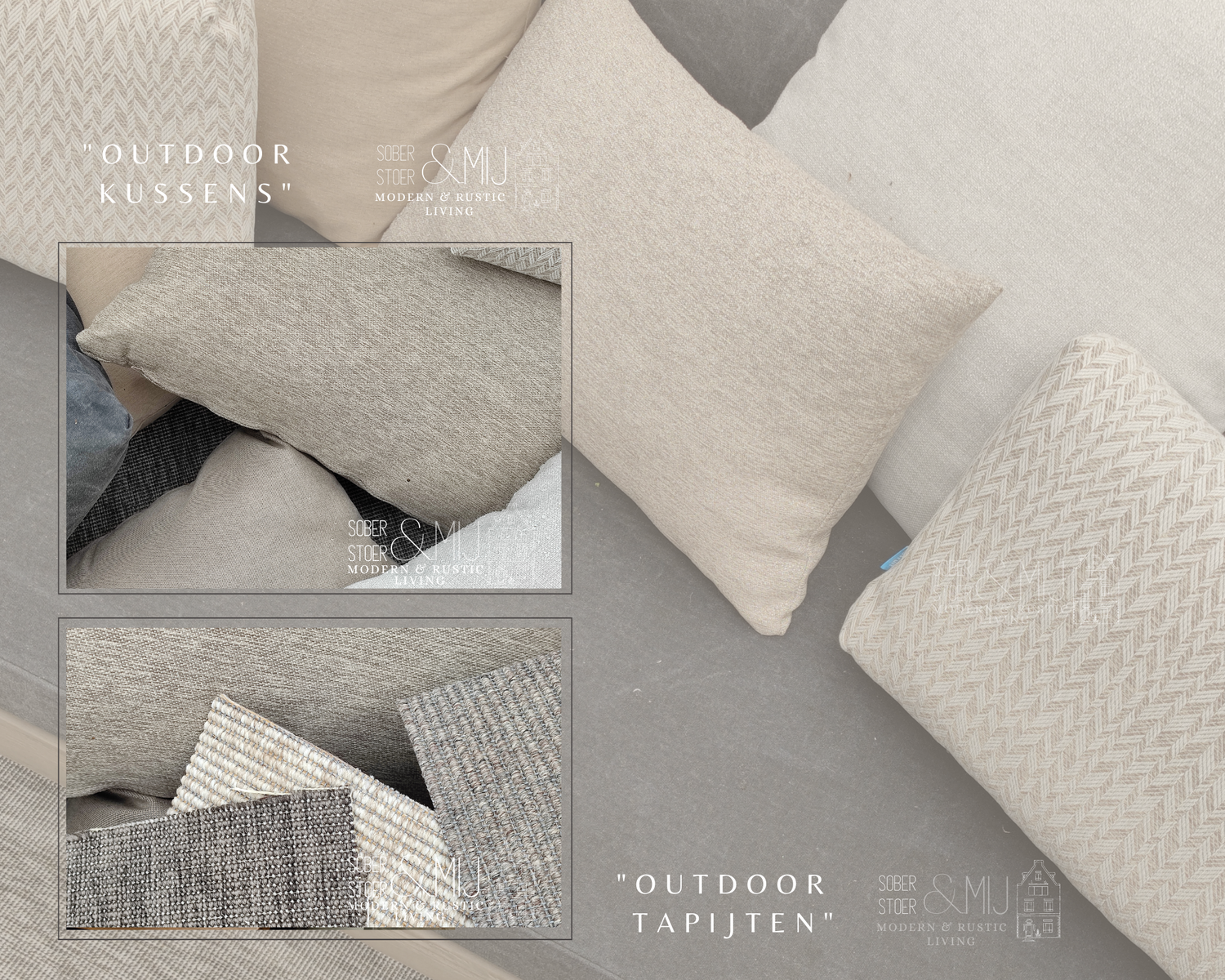 Outdoor fabrics & carpets
Would you like to choose a color and fabric for your new garden furniture? That is possible with us, because all garden furniture from our collection can also be ordered without cushions. This way you can make the perfect match with your terrace yourself. You can even opt for different types of indoor cushions, such as all-weather cushions. Do you have a shelter? Then of course we save on this.
We also have a beautiful collection of outdoor carpets that match the collection of fabrics, which gives a nice combination. If a standard size does not suit you, this is not a problem, because customization is also possible.
Can't figure it out? We are happy to help you.
Soon you will find more details and fabric samples here
GET INSPIRED
Below you will find a number of atmospheric images of outdoor furniture already delivered (from the 2022 collection) and atmospheric images of our new collection